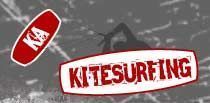 KA Kite Surfing
Here at TridentUK we have work closely with Kevin Anderson from KA Kitesurfing in his sailing and kitesurfing career. Kevin is a BKSA (British Kite Surfing Association) qualified senior instructor.
We are pleased to have supplied him with a drysuit to get him through the cold northern winters so he can continue to enjoy his kitesurfing.
If you are interested in kitesurfing lessons you can find full details on his website.
Stay Warm and Dry while Kite Surfing - Click Here to see all of our Drysuits
Here are some of the Drysuits we sell