Trident Orbit Custom Made Adult Drysuit
Made to Order in 2-3 Days
Choose your options and build your own Drysuit tailored to your sport.
Great if you want a back zip or latex seals on your Drysuit.
Our Build Your Own, Custom Made Orbit Drysuits are made to order at the specification you want. You can choose from a range of options and extras to suit your needs.
Built on the Standard Orbit Drysuit, you can then choose from the following options.
Colour Option: Black or Red
Zip Choice: Choose front or back zip
Seals: Choose Latex or Neoprene neck or wrist seals
Add a fly-zip
Add a pocket: On the Arm or Leg
Latex Ankle Seals: In lieu of 3D socks, great for Kite-surfing, wake boarding, etc...
Made To Measure
If you don't fit into our standard size chart, we can make a Drysuit tailored to your size. Depending on your size the cost of this service varies, you will fall into one of the below options;
 
Your Size
Cost
Made To Measure
Height is equal to/less than 6'3" (191cm)
and
chest/waist/hips are equal to/less than 50 ins (127cm).
+ £40
Made To Measure Oversized
Height is greater than 6'3" (191cm)
or
chest/waist/hips are greater than 50 ins (127cm).
+ £70
To provide provide us with your measurements please fill in the Made to measure form at the bottom of this page and when you place an order reply to the order confirmation with it as an attachment. Made to Measure suit normally take 1-2 weeks to manufacture.
If you have any questions regarding ordering a Drysuit please feel free to contact us.
FABRIC
RTX400H
The Outer Layer is a durable, abrasion resistant nylon which is treated with DWR (Durable Water Repellency).
The Midlayer is a microporous PU membrane which transfers vapour molecules from the inner layer to outer layer.
The Inner Knitted scrim layer is a soft nylon which is high wicking and has "easy slip" properties, sliding over the garments that are worn under the Drysuits ie. no snagging or dragging over knees etc. when you are moving around.
TECHNOLOGY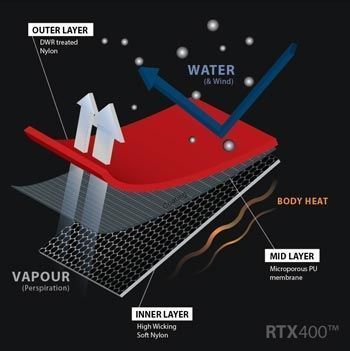 ANALYSE THE FEATURES
Aquaseal Zip It is lightweight, flexible, has no forward bend restriction and is positioned for easy, fast, independent wearing when putting on the Drysuit and taking it off.
Soft lining makes a comfortable wear next to the skin, ideal for warm days when there is a lot of cold water splashing around.
Glide skin neck and wrist neoprene seals for easy taking on and off, if you prefer latex seals you can order these instead.
Shorter length wrist seals, producing a less bulk, more comfort without compromising on waterproofing.
Comfortable brace arrangement
Durable Cordura knee and seat reinforcement for extra protection.
Ergonomic design for ease of movement.
Elastic waistband helping to produce an overall stylish and comfortable fit.
More Information

| | |
| --- | --- |
| SKU | TC-750-CUSTOM |
| Braces | Yes |
| Breathable | Yes |
| Zip | Front or Back (Your Choice) |
| Seals (Wrist & Neck) | Latex or Neoprene (Your choice) |
| Drysuit Sock | Latex Socks (Ankle Seals available) |
| Pocket | Optional Extra |

MANUFACTURED IN THE UK
We produce our drysuits on site at our Manufacturing Facility in Gateshead, United Kingdom. The drysuit are produce along with a whole range of products for sailing and other watersports activities.
Great For
Sailing
Kayaking
Paddle Boarding
Canoeing
Jet Skiing
Land Yachting
Power Boating
All activities by and on the water
TridentUK Adult Orbit Drysuit Size Chart
Below is the size chart for the TridentUK Adult Orbit Drysuit, if you feel you need any help choosing your size please feel free to ask us a question or give us a call.
| Size | Maximum Height | Maximun Chest |
| --- | --- | --- |
| Small | 5'7" (170cm) | 36 ins (91cm) |
| Small Broad | 5'7" (170cm) | 42 ins (107cm) |
| Medium | 5'10" (178cm) | 39 ins (99cm) |
| Medium Broad | 5'10" (178cm) | 44 ins (112cm) |
| Large | 6' (183cm) | 42 ins (107cm) |
| X-Large | 6'2" (188cm) | 46 ins (117cm) |
| XX-Large | 6'3" (191cm) | 50 ins (127cm) |
UK Delivery Charges
Free UK wide Delivery on This Item - Using a Royal Mail Tracked Service
Faster Option available, add this item to the shopping cart to check options.
International Deliveries 
Pay for your order in Euro's or US Dollars, by clicking on the Links at the top of page.
We use either a Royal Mail Air Service or Fedex to deliver this product internationally.
You can easily check the price and options for delivering your order by adding the items to the cart and selecting your delivery country and region.
Free Returns
This item can be returned using our Royal Mail Free Returns service subject to the following conditions.
If using our Royal Mail Free Returns you must follow there guidelines.
The product can't be one of the following; Special Order Items, Items cut to a length, Custom Made Items, self assembly products that have been assembled and safety products including flares and inflatable lifejackets.
Items should be returned within 30 Days of receipt.
Items must be unused and returned in the original packaging with labels if applicable.
.
Frequently Bought Together