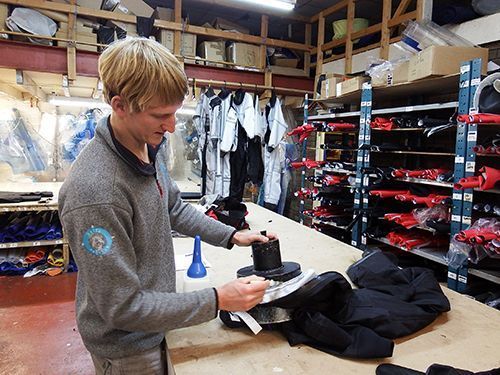 At TridentUK we repair all makes of surface water drysuits, this includes drysuits used for sports and commercial purposes.

The services we provide include:
Seal replacements - Latex and Neoprene.
Leak tests and repairs.
Replacement drysuit zips, in brass or nylon.
In some cases we can offer a reproofing service.
Cleaning of commercial suits
What to do
Simply download, print and fill in our repair form Click Here, then package it with your drysuit.
Or on paper make sure you include the following details with your drysuit;
Name
Billing Address
Delivery Address if different
Telephone number
Email Address
Details of the work you would like done and/or the problem with you suits.
Choose one of the below methods for shipping your drysuit repair to us.
Option 1 - Use Our Royal Mail Account
You can go to RoyalMail.com and create a label and then drop your drysuit at most Post Offices, you can even get the label printed at the post office using your smart phone.
Use the folowing proceedure;
Follow this link - http://www.royalmail.com/track-my-return/create/2718
Make sure parcel meets the criteria and enter your details, selecting drysuit repair.
Either print the label and attach to the parcel, or use your smart phone to get barcode for printing in the post office
Take to your local post office and collect a receipt of posting
When we receive your drysuit we will add £5 to the cost of your repair to cover the costs.
Option 2 - Organise Post
Please post your Drysuit to the following address.
Drysuit Clinic
TridentUK
Trident Quay
South Shore Rd
Gateshead
NE8 3AE

We pride ourselves on our reputation of providing a 'Thorough, Fast and Precise' service, where we encourage our customers to ask questions and seek advice, as you are the one wearing the drysuit!
We offer repairs for all drysuits brands, including Trident, Crewsaver, Gill, Gul, Henri Lloyd, Musto and Typhoon, as well as any other surface sport drysuit.
Our rates are competitive,
Our service is fast,
And if you have a Trident Drysuit you will receive a preferential price.
Drysuit Repair Costs
Description
Fitted To A Trident Drysuit
Fitted To Another Brand
Seal Repair Kit
Neck - Latex
£31*
£36*
£15.95
Neck - Neoprene
£37.50*
£43.50*
£21.00
Wrist - Latex
£19 each
£33 pair
£22 each
£38 pair
£15.95 pair
Wrist - Neoprene
£24 each
£37 pair
£28 each
£42 pair
£21.00 pair
Ankle
£20 each
£35 each
£22 each
£40 pair
£15.95 pair
Latex Socks
£21 each
£38 pair
£24 each
£44 pair
£19.95 pair
Waist seal
£45 each
£50 each
Zip
£95.00
£115.00
Fly Zip
£55.00
£65.00
Water testing & retape seams
Min £15.00
Min £19.00
Mending hole or other repair
POA
POA
Return Carriage (Mainland UK excluding Scottish Highlands)
£7.50
£7.50
* + £15.00 if suit has neck seal cover.
Want to Repair the Drysuit yourself? Click Here to see our Clothing Maintenance Section
Here are some of the Clothing Maintenance items we sell