Trident Sail Loft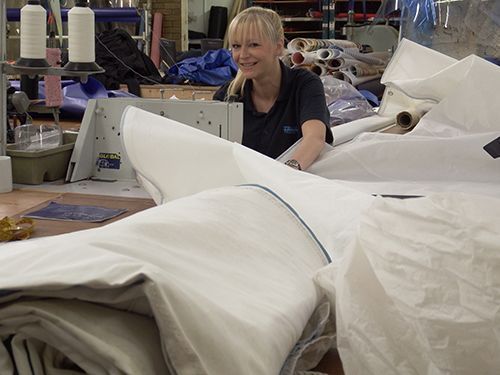 In the Trident Sail loft we offer a wide range of services.
Send your sails to us with your details and we'll do the jobs for you - to ship to us try this website www.parcel2go.com - it is a compare website
Here are some of the services we offer:
Sail Repairs, Alterations & Laundering
The FULL Sail Service - Launder and Complete Check Over!!
Manufacture of Sails, Boatcovers, Boom Covers, Dodgers
UV Strips etc
Reproofing of Canopies
Types of Sails Repaired
Due to the wide range of experience we have within Trident Team - we can provide a fast and efficient Repair Service for:
Yachts
Dinghies
Windsurfers
Kites
Hang Gliders
and we repair Tents and Awnings
Minimum charge for a sail repair is £25 and includes the first 30 minutes labour, after that work is timed and charged at £50 an hour accordingly.
Sail Repairs and Alterations
We take care in the quality of our repairs and are conscious that your sails sometimes need a quick turn around. Being sailors ourselves we are aware of the importance of the sails/kites etc performing and looking correct - even if they have been repaired or altered.

We have laminates, woven cloths and rip stop materials to match your sail's technologies and colour schemes as closely as possible for a near invisible repair.

We also work closely with insurance companies and can liaise with them on your behalf getting you back on the water with minimal fuss.
The FULL Sail Service - Laundering and a Complete Check Over!! We can store your sail for the winter and return it to you in the spring laundered, fully serviced and ready to go, good as new!
 
Laundering your sails removes salt and stains from the sail prolonging its overall life span. 
Regular servicing of your sails will help catch the small problems before they become big problems.
We will lay out the sail and inspect it for any signs of wear or damage.
Items on the checklist include:
Bolt rope inspection - wear on the bolt rope and surrounding cloth 
Threads and seams - re-stitching worn seams before they split completely 
Batten pockets and elastics - replacing worn batten pockets, the battens themselves and the elastics inside 
Batten ends - wear at either end of the batten 
UV strip - repair or replace 
Clew, head and tack re-enforcement areas - check for the correct stiffness for the size of sail and repair if necessary 
Windows - repair or replace fogged, stained, creased or broken windows 
Tell Tales - replace existing or fit new 
Cuts and rips in the main cloth - general wear on the main body of the sail 
Sail Numbering/Logo - fit, rebuild or replace with new 
Leach Lines - general inspection of the line, sleeve and cleats 
Slugs - wear on the attachments and plastics
Other Services
We can offer a number of services to help you out with the running of your boat.
New Sails -
 - for yachts or dinghies not listed please contact us using the helpdesk, emailing or calling 0191 490 1736
Adding or replacing UV strips
New dodgers and boom covers
Replacement console covers
Sail bags
Measurement Forms
If you would like some bespoke work we can supply the following forms.
Boom Cover Made to Measure Form
Dodger Made to Measure Form
Boatcover Made to Measure Form - see Dinghy Price List

If you have an old copy of what you want - it makes your and our life easier and cheaper as we can copy it.
Have you considered replacing your Sail or Cover?  Click Here to see our New Sails and Boat Covers
Here are some of our New Sails and Boat Covers