Made To Measure Boat Covers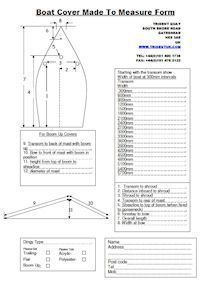 Can't find a cover for your boat?
We can make you one.
Simply download the Made to Measure Form Click Here To Download Form or click on the image above.
Carefully take the necessary measurements from your boat and complete the form. This is easiest done with 2 people and 2 tape measures, fix one tape from transom to bow along the centreline, then 2 people holding the tape measure the beam every 300mm
Then email or post the completed form back to us and we will supply you with a quote for your cover. If you are happy place the order and we'll start working on it.
How much will it cost?
Please use the table below as a guide to show how much your cover will cost, but this can sometimes vary depending on the particular boat and your requirements.
Style
Trailing/Flat
(No openings on top)
Flat/Mast Up
(Flat cover with openings for the mast, shrouds and forestay)
Boom Up/Overboom
(Cover fits over boom with the mast up, openings for the mast, shrouds and forestay)
Material
PVC
Breathable HydroGuard
PVC
Breathable HydroGuard
PVC
Breathable HydroGuard
Length
Upto 8ft
/2.4m
£89
£125
£129
£182
£156
£219
Upto 10ft
/3m
£104
£146
£151
£210
£182
£255
Upto 12ft
/3.6m
£128
£185
£185
£260
£224
£314
Upto 14ft
/4.2m
£139
£202
£202
£284
£242
£339
Upto 16ft
/4.9m
£155
£225
£226
£319
£272
£378

If your boat is larger than 16ft then please give us a call.
We have made covers for boats of all sorts of different sizes and shapes, but it is very difficult to price these without knowing more details.