- well designed
- excellent quality
- competitively priced
- choice of design & fabric
- free delivery if over £100 to mainland UK
(excluding Scottish Highlands)
Choose Your Design
Our cover designs are individually tailored to each class of boat and have features incorporated to provide the best possible protection,
from the UV light, rain, etc.
keep other matter out, such as leaves, sand, bird droppings etc.
pollutants in the atmosphere
and prying eyes.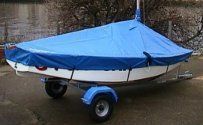 Overboom Cover (Boom Up)
Ideal if you are leaving your boat in one place for most of the season.
* Fits over the boom reducing water collection on the cover.
* Features openings for mast, shrouds, forestay and end of boom when needed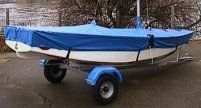 Flat Cover (Mast Up)
Probably the most versatile cover, useful when the mast is up or down
* Fits flat over the dinghy with openings for mast, shrouds and forestay.
* Features a main halyard tie to reduce water collection and sagging.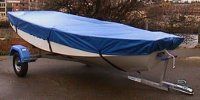 Trailing Cover (Mast Down)
Used on unstayed masted dinghies eg. Topper, Laser etc. Also ideal for boats while travelling, as you are able to store your equipment inside.
* Fits snug on boat, with no openings for mast, shrouds or forestay.
* Features a drawstring and straps for under the boat.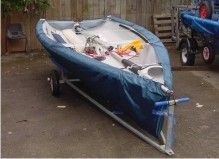 Under Cover
Used when towing your boat, to protect the underside.
Made from a navy nylon and features both a drawstring and straps to keep it secure while travelling.
Choose Your Fabric
A breathable boatcover will reduce the damp environment inside the boat, which over a period of time could lead to the wood or GRP absorbing water and putting weight onto the boat. On wooden boats a damp interior can also shorten the life of the varnish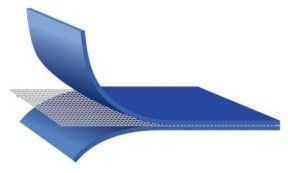 Non Breathable PVC Coated Polyester
Is a high quality hardwearing, non shrinking blue fabric, pliable, easy to handle.
It is 360gms(12oz)/sq m upto 12ft dinghies, and 450gms(16oz)/sq m for bigger dinghies (normally).
Outside PVC layers offer -
- waterproofness
- abrasion resistance
- extreme condition resistance, including UV stabilised
- chemical resistance to withstand fungus, rotting from birds droppings
Inside high polyester fabric offers -
- dimensional stability
- tensile and tear strength

NEW - HydroGuard
After several years of testing we have introduced a new breathable fabric into our Boatcover range. HydroGuard polyester has been designed specifically as a Marine Grade fabric for covers.
- Unlike other alternatives on the market, it boasts a lighter, stronger, more flexible nature.
- Whilst not compromising on important waterproof and UV resistant qualities it sustains durability and toughness.
- The fabric has undergone various treatments making this a particularly ideal fabric for protecting your dinghy, boat, or sails from the elements, environment and prying eyes!
- Best of all HydroGuard is breathable allowing vapour to escape from the inside reducing dampness, heat build up and condensation