Laser Boat Cover Top (Mast Down) Breathable HydroGuard
Laser flat trailing cover in breathable HydroGuard. There are no openings except for the bow tie-down slot, thereby reducing the chance of water ingress and any foreign matter finding their way inside.
Protect your Laser dinghy with one of our TridentUK Breathable HydroGuard Boat Covers.

Our Laser breathable HydroGuad cover assumes you take the mast down on your boat when you are not sailing. It doesn't have any openings on the top of the cover, except for the bow tie-down slot, so reducing the chance of water ingress and any foreign matter (leafs, etc...) finding its way inside. Designed to fit your Laser with or without spars stored underneath.
The cover is made from a blue 235g/m2 (8.3oz/m2) HydroGuard, which is the latest offering in boat cover materials. It combines breakthrough UV technology with water resistance and durability and is the perfect balance of science, toughness and style. It is lightweight, water resistant, non sagging and durable. The HydroMax finish also provides excellent breathability to help reduce condensation and mildew.

Benefits of a Breathable Boatcover - A breathable boatcover will reduce the damp environment inside the boat, which over a period of time could lead to the wood or GRP absorbing water and putting weight onto the boat. On wooden boats a damp interior can also shorten the life of the varnish.

All straps on the cover have snap buckles to make it easy to attach and remove the straps. A spare buckle is supplied just in case one gets broken.

Specification
• Top (Mast Down) Cover
• HydroGuard Breathable Material
• Excellent strength and durability from a lightweight fabric
• UV Stabilised Material
• Material guaranteed for 5 years against UV degradation
• Material Weight: 235g/m2 (8.3oz/m2)
• 3 Straps under the boat
• Snap Buckles on all straps
• Colour: Blue
• Made in Gateshead, United Kingdom

Cover Features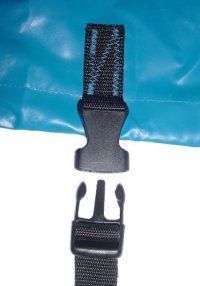 All the straps are fitted with snap buckles, this allows easy fitting of the cover.


Feedback from a customer - 06/06/2012
Just received the laser (one) top cover and it fits brilliantly even with spar carrier, spars and rolled sails on top - this was my one worry in buying on-line and not being able to see the goods - thank you.

Since then it has been well tested thanks to the huge amount of rain we have had recently (british summer) and performed excellently. Light and dry this is the best cover I have used or ever seen.
More Information

| | |
| --- | --- |
| SKU | TFCOVL01A |
| Colour | Blue |
| Cover Type | Top (Mast Down) |
| Material | HydroGuard |
| Breathable? | Yes |
| Material Weight | 235g/m2 (8.3oz/m2) |
| Material UV Degradation Guarantee | 5 Years |
| Number of Straps | 3 |
| Mast Opening? | No |
| Shroud Openings? | No |
| Forestay Opening? | No |
| Main Halyard Tie Point? | No |
.