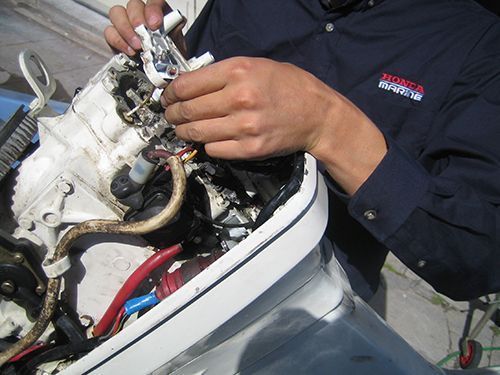 No matter how old the engine, if the spare parts are still available, we can usually fix it. If we can't fix it, we can always sell you a replacement!
 
But our service goes much deeper than that.
We can winterise your outboard during the closed season and we can de-winterise and service it ready for the new season.
We can also handle many other boating services like electrics, plumbing and anti-fouling.
Indeed, we're open to most requests - all you have to do is ask. If ever we have to say "No" it's either because it's not something we can handle or it's because we just don't have the time to do the work and still give you a speedy service. But we normally do everything we can to help our customers. If we can't, we'll recommend the best person for the job.
We believe our service is second to none, being based on a long-standing tradition of dedication and commitment to our customers - a tradition we plan to carry forward into the future.
Servicing
Typical service prices for Honda engines excluding parts outside the standard service kit
2.3hp £47
5hp £85
8,10,15 & 20hp £150
Servicing for other 4 stroke engine brands later than 1998 are similar to the above, 2 stroke engines are generally cheaper.
It's worth noting that any diagnostic work could incure additional costs.
Call 0191 4901736 to discuss you requirements and get our latest prices.
Winterisation and Recommissioning
Do you find that you spend the beginning of each new season sorting out irritating engine problems? Are you laying up your engine correctly each winter?
We offer a complete Winterisation and recommissioning service, which helps to ensure that your engine performs when you need it to, doing away with annoying down time at the beginning of a new season.
The winterisation and recommissioning service offered by Trident is designed to reduce any engine downtime in the middle of the season (when you least want to be without the use of your boat!). A Winterisation prepares the engine to be stored correctly over the winter months when it will not be used. The following spring the engine is recommissioned, this prepares the engine for the season ahead.
Winterisation
The engine oil is changed, the cooling system is drained and filled with a 50/50 mix of antifreeze and inhibitor. Any cooling system anodes are changed. Engine drive belts are checked and adjusted. Fuel conditioners are added if required. Exhaust and intakes are blanked. All of these checks and adjustments help to insure that the engine makes it through the winter in the best possible condition.
Recommissioning
When an engine is recommissioned it essentially get the equivalent of a major service and reverses the winterisation process. The Water pump impellers are changed, the cooling system drained and filled with the correct coolant. Primary and secondary fuel filters are changed, the engine is run to warm it up and checked for leaks.
If you would like any more information about the winterisation and recommissioning routines please contact us.
Looking For Outboard Accessories?  Click Here To See All Of Our Outboards Accessories