Normally Available in 2-3 Days
A great boat particularly suitable for two smaller persons whether as an entry level boat or for experienced sailors. versatile craft.
Frequently Bought Together

Details
TRIDENT-UK MIRROR WEEKENDER DINGHY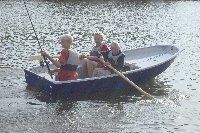 The Mirror Dinghy is one of the most popular small dinghies in the world and is now available in low maintenance GRP.

The Mirror Weekender is a very versatile craft,
It can be Sailed - Rowed - Motored, and with its wide waterline beam, coupled with its generous freeboard makes her the ideal choice for adults or children.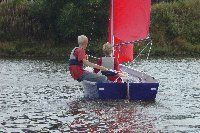 The combination of the versatile rig and displacement hull gives excellent performance under sail, perfect for those looking for fun, and effortless sailing in a variety of wind conditions, you can even shorten the sail if it's a bit windy.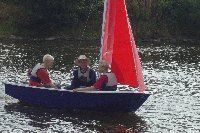 It rows exceptionally well and in addition the Mirror offers excellent stability and grip on the water in a cross wind.

The Weekender can be motored by a conventional outboard or a pollution free 12v Electric Outboard Engine.

It is very easy to rig, launch and recover, and because it is very light in comparison to its size, it is easily car toppable or towed on any light weight trailer.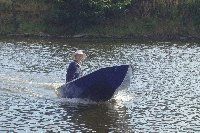 Technical Details


Length = 3.3m
Beam = 1.35m
Weight = 46Kg
Sail Area = 10msq
Hull Weight = 45.5Kg Approx
Max Capacity = 350Kg
Colour: Hull = White, Deck = Grey
Rig = Two Piece Bermudan Mast
Supplied Ready to sail, just add the trolley and cover of your choice.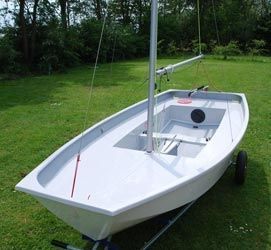 Points To Note


The surf board type of dinghies are not really suited to serious cruising as you sit on them not in them.
The inflatable type of dinghy take a lot of pumping up, and have poorer performance on the water.
The Mirror Weekender can be easily upgraded to a Mirror Race allowing another dimension to its versatility!


Any questions give us a call or send us an email.
More Information
More Information

| | |
| --- | --- |
| SKU | TBMW |
Feefo Reviews
.
Questions (7)
Questions
Marcel Stribrnsky asks 4 Apr 2018

Hi
please can you tell me how much will cost shipping to Slovakia - Bratislava?Many thanks.

Hi, Shipping to Bratislava is no problem but to get a price I need the full address to give to the shippers.




Many thanks, David

Eleanor Thomas asks 4 Mar 2017

Hello,

I now have my Trident Mirror - 2005 and excellent condition.
two questions:

1. It has in fact been fitted with rowlock sockets but in the wrong place so I'll move them. They have been reinforced with aluminium under the gunwale, but it looks very bandy - would tufnall reinforcement be better, and if so should it be bonded as well as screwed in?

2. can a centre main system be fitted to a wooden boom, which I would like to retain if possible?

Thanks,

Eleanor

Hi Eleanor
You can reinforce the gunwhales how you like as long as you are spreading the load on them.
Yes you can fit a centre main kit to a wooden boom, just let us know at the time of order
Regards
David

Eleanor asks 3 Feb 2017

Hi,
and thanks for your response to questions about fitting rowlocks to a GRP Mirror - I forgot to ask: what is the recommended oar length for a Mirror, and can you indicate where they should be mounted on the length of the gunwhales for effective rowing?
Many thanks

Hi Eleanor, we sell two lengths suitable for the Mirror, 1.80m and 1.95m and the position of the rowlock wants to be approx 200mm behind the rear edge of the thwart.




David

Peter Sawyer asks 9 Nov 2016

Hi,
What is the total length of the weekender including or when on a trailer?
Peter

Hi Peter
I haven't got one on a trailer to measure sorry but the Mirror is 10'10" and you could add on about 3' for the trailer draw bar
Does that help?
Regards
David

Athene Thannos asks 23 Sep 2016

Please can you explain the differences between the Weekender hull and the racing hull in terms of construction, weight and any other differences? I too am possibly looking at a hybrid option between the two and want to identify which hull I should choose? Many thanks.

Hi Athene




The Weekender and Race hull are the same, the difference between the two boats is how they are rigged. The Weekender has a two sail set-up while the Race has the addition of the spinnaker and all the rigging to operate it, it also has toestraps fitted.




Many thanks David

Clare Hunter asks 5 Sep 2016

How much do you charge for a mirror weekender hull with a racing rig?

Hi Clare
That would depend on what racing specification you require.
Either give us a call to discuss what spec. you require or send a list of what you want and we'll price it for you
Regards
David

Mary Sheldon asks 21 Aug 2015

Please can you tell me if the Mirror weekender comes complete with rowlock sockets, rowlocks and oars.

Hi Mary, while the Miror Weekender is very suited to rowing and motoring it is supplied complete ready to sail only and rowlocks/sockets/oars or engine/bracket are additions if required.




David Gebhard