Trident Compass Custom Made Adult Drysuit
Made to Order in 2-3 Days
Choose your options and build your own drysuit tailored to your sport. Great if you want a back zip or latex seals on your drysuit.
Our Build Your Own, Custom Made Compass drysuits are made to order at the specification you want. You can choose from a range of options and extra's to suit your needs.
Built on our top of the Range Compass Drysuit, you can then choose from the following options.
Zip Choice: Choose front or back zip
Seals: Choose Latex or Neoprene neck or wrist seals
Add a fly-zip
Add an arm pocket
Spray Skirt Cover: Great for Kayaking
Latex Ankle Seals: In lieu of 3D socks, great for Kite-surfing, wake boarding, etc...
Standard Compass Features
Our Best Ever purpose designed Drysuit for sailing. With many additional features and specialised details it truly is a top of the range drysuit.
Developed through our own sailing, testing and extensive market research - finding out what customers want and expect from a top of the range Sailing Drysuit.
Like all Trident Drysuits in our latest range the Compass enters a new age for drysuit comfort without compromising on the full protection you have come to expect from us.
Whilst focusing on reducing movement restrictions with a very flexible front zip and surprisingly soft fabric it is the details that set the Compass apart from the rest.
Constructed with the specialised fabric RTX400™ it is lightweight, robust, breathable and easy to wear without a bulky feel. With over 5 years of Fabric testing the RTX400™ comes out on top every time with complete water & windproof protection.
Made To Measure
If you don't fit into our standard size chart, we make a suit tailored to your size. Depending on your size the cost of this service varies. You will fall into one of the below options;
Your Size
Cost
Made To Measure
Height is equal to/less than 6'3" (191cm)
and
chest/waist/hips are equal to/less than 50 ins (127cm).
+ £40
Made To Measure Oversized
Height is greater than 6'3" (191cm)
or
chest/waist/hips are greater than 50 ins (127cm).
+ £70
To provide provide us with your measurements please fill in the Made to measure form at the bottom of this page and when you place an order reply to the order confirmation with it as an attachment. Made to Measure suit normally take 1-2 weeks to manufacture.
If you have any questions regarding ordering a suit please feel free to contact us.
FABRIC
RTX400H
The Outer Layer is a durable, abrasion resistant nylon which is treated with DWR (Durable Water Repellency).
The Midlayer is a microporous PU membrane which transfers vapour molecules from the inner layer to outer layer.
The Inner Knitted scrim layer is a soft nylon which is high wicking and has "easy slip" properties, sliding over the garments that are worn under the Drysuits ie. no snagging or dragging over knees etc. when you are moving around.
TECHNOLOGY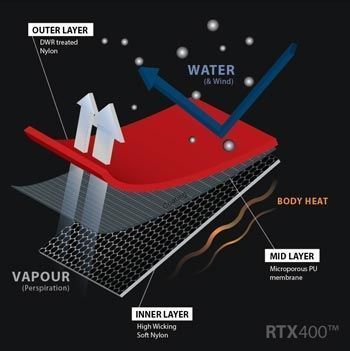 ANALYSE THE FEATURES
Aquaseal Zip It is lightweight, flexible, has no forward bend restriction and is positioned for easy, fast, independent wearing when putting on the Drysuit and taking it off.
Soft lining makes a comfortable wear next to the skin, ideal for warm days when there is a lot of cold water splashing around.
Glide skin neck and wrist neoprene seals for easy taking on and off, and considerably more comfortable to wear than latex seals.
Shorter length wrist seals, producing a less bulk, more comfort without compromising on waterproofing.
Comfortable brace arrangement
Durable Cordura knee and seat reinforcement for extra protection.
Ergonomic design for ease of movement.
Elastic waistband helping to produce an overall stylish and comfortable fit.
Hi-Storm Collar - Provides adjustable extra protection on wet and windy days, but folds neatly down when it is not needed.
Wrist Seal Covers - With velcro adjustment, give more protection without impeding your watch.
Cargo Pocket - Low profile thigh pocket, which has excellent carrying capacity
Internal pocket - Great for valuables or some spare change.
Velcro Zip Cover - Providing more protection and a stylish finishing touch.
More Information

| | |
| --- | --- |
| SKU | TC-770-CUSTOM |
| Colour | Black/Red |
| Braces | Yes |
| Breathable | Yes |
| Zip | Front or Back (Your Choice) |
| Seals (Wrist & Neck) | Latex or Neoprene (Your choice) |
| Drysuit Sock | Latex Socks (Ankle Seals available) |
| Pocket | Yes |

MANUFACTURED IN THE UK
We produce our drysuits on site at our Manufacturing Facility in Gateshead, United Kingdom. The drysuit are produce along with a whole range of products for sailing and other watersports activities.
Great For
Sailing
Kayaking
Paddle Boarding
Canoeing
Jet Skiing
Land Yachting
Power Boating
All activities by and on the water
TridentUK Drysuit Size Chart
Below is the size chart for the TridentUK Adult Compass Drysuit, if you feel you need any help choosing your size please feel free to ask us a question or give us a call.

| Size | Maximum Height | Maximum Chest |
| --- | --- | --- |
| Small | 5'7" (170cm) | 36 ins (91cm) |
| Small Broad | 5'7" (170cm) | 42 ins (107cm) |
| Medium | 5'10" (178cm) | 39 ins (99cm) |
| Medium Broad | 5'10" (178cm) | 44 ins (112cm) |
| Large | 6' (183cm) | 42 ins (107cm) |
| X-Large | 6'2" (188cm) | 46 ins (117cm) |
| XX-Large | 6'3" (191cm) | 50 ins (127cm) |
.
Frequently Bought Together