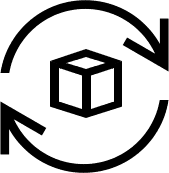 Here at Trident we hope you are happy with your purchase, but we understand sometimes the items you order aren't quite what you expected or need.
If you need to return something to us, please send a copy of your paper work and explain on it whether you would like the items refunded or exchanged. We will contact you to process payment as required.
Condition for Returning Items
Items should be returned within 30 Days of receipt.
Special Order Items, Items cut to a length, Custom Made Items, self assembly products that have been assembled and safety products including flares and inflatable lifejackets are excluded from returns.
Items must be unused and returned in the original packaging with labels if applicable.
This is a summary of our returns, for full details see our Terms & Conditions.
What happens Next
We aim to process returns within 7 days.
Items for exchange will have a new order created and you will be notified accordingly.
Items for refund will be refunded accordingly, we email you when this happens. Please allow a further 3-5 days for the refund to appear in your account.
Urgent Exchanges
If you need an exchange quickly then we would recommend re-ordering the items you need and returning the items you have for a refund. 
Order Errors and Warranty Returns
If you have received an order which is missing an item or contains incorrect items or you have a warranty query please contact us before returning the items. Either by email, through the contact us page or by phone on +44 191 4901 736.
Sending Your Return
Please return your order to:
Returns
TridentUK
6 South Shore Road
Gateshead
Tyne And Wear
NE8 3AE
United Kingdom
Remember to obtain proof of postage for your returned items, as TridentUK cannot take any responsibility for goods that fail to arrive safely.