Double / Triple Stacking Box Trailer
From £910.00
To £1,174.75
A great light weight, compact box trailer for carrying small dinghies. Easy to manoeuvre and store thanks to its size and weight.
Details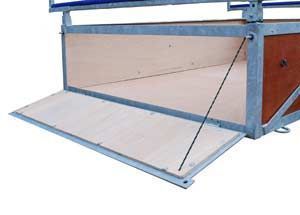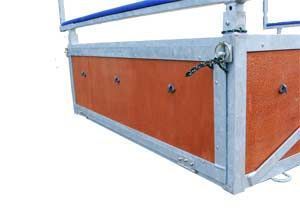 Ideal for Mirrors, Toppers, Optimists, Lasers, Tera's and other small dinghies but please specify when ordering.
A large 6ft x 4ft box with a depth of 14.5" carries the foils, sails, tents, spares etc while the lightweight upper structure carries the boats. The upper structure, which is 4ft 11" wide, is removable and is great as a boat storage rack in the winter time.
Available with a double or triple removable frame, and the option of a drop down tail gate. This allows access to the box while there is a boat on top.
Supplied as Standard
Jockey Wheel
Lighting Board
Frame of Your Choice for 2 or 3 boats
D Rubber on the bars to protect the boats
Optional Extra's
Spare Wheel - If you order one of these we will fit it to the trailer for you.
Drop Down Tail Gate - Allows you access to the box when you have a boat on the trailer.
Cover - A PVC cover to protect the contents from the weather and prying eyes. If ordered with the trailer we will fit attachment hooks to the trailer ready to take the cover.
Specification
Overall Length - 350cm (The trailer length will increase when you put a boat on it.)
Drawbar length - 160cm
Width - 160cm
Height - 150cm For double stacker
Height - 185cm For triple Laser stacker (Optimists, Topper's & Tera's)
Height - 214cm For triple Mirror stacker
Depth inside frame of Double - 61cm
Depth inside frame of triple Laser stacker - 46cm
Depth inside frame of triple Mirror stacker - 61cm
10" Trailer Wheels
Hot Dipped Galvanised Frame for long lasting protection
High Quality Marine Ply in the box, treated for a long life.
More Information
More Information

| | |
| --- | --- |
| SKU | TRTRABOX |
Feefo Reviews
.
Questions (13)
Questions
Richard Blackah asks 4 Jul 2019

How much does a double stacker weigh?

Hi Richard
The double stacking box trailer weighs approximately 140kgs
I hope that helps
Regards
David

Bill Caldwell asks 9 Aug 2018

Hi. I have the double stacker.
Would this take two Feva's? Thanks

Hi Bill
I haven't tried sorry, I think it fits both but if you have a Feva to hand you may be able to confirm, the Laser/Topper/Optimist version which has an 18 inch internal gap and the Mirror version which has a 24 inch gap
Regards
David

simone asks 9 Mar 2017

Can you tell me the height of the double stacking trailer with box underneath suitable for carrying toppers please

Hi Simone
The double stacker is about 4 foot 10 inches high without boats and the triple stacker for Toppers, Lasers and Optimists is 6 foot high
I hope that helps
David

Roy Taylor asks 9 Jul 2015

Hi can you tell me what weight the trailer carries.

Hi Roy
The trailer is designed to carry 2 or 3 light weight dinghies and associated gear.
The trailer is fitted with 500kg suspension units and it weighs about 100kgs so there is 400kgs remaining, however it isn't designed to carry a 400kg load like bricks, stone, engine etc
I hope that makes sense
David

Andrew Russell asks 1 Jan 1970

Is it possible to load a Topper on this trailer with the front bar resting on the side decks just behind the foredeck as recommended by the Topper builders?

Hi Andrew
Yes that's how they fit
Regards
David

paul Shaw asks 1 Jan 1970

Can I buy the triple rack on its own. I already have a suitable base.
07967170380


Hi Paul
Yes you can but not online and it will be subject to a delivery charge if you are not collecting
Regards
David

Richard Easdale asks 1 Jan 1970

Hi

Would the triple stacker take 3 Pico's

regards

Richard

Hi Richard
Yes it will, I expect they would be best on the Laser one but you are best to check the depth of the Pico to make sure
Max depth of the frames is 46cms on the Laser version
Regards
David Shiilling

Philip asks 1 Jan 1970

Can you deliver to Sweden, or do you have a local agent? Does the trailer have a VIN plate indicating EU 80 km/h unbraked trailer, so we could register it here?
Thanks,
Philip

Hi Philip
The double trailer would have to be towed to Sweden or put on a lorry (taking up many pallet spaces) or put on a ferry as unaccompanied freight to Amsterdam. So I guess it's not cheap unless you know someone coming over to Newcastle.




The trailer does have a VIN plate and EU certificate




Regards
David

Robin Leather asks 1 Jan 1970

What is the inside width of the rack?

Joanna Stratton asks 1 Jan 1970

Which size box trailer frame would you recommend for a topper topaz and a laser please?

Hi Joanna,




the Double frame will carry the two boats with their trollies but it will be easier to use the Triple for Laser, Topper etc and then you will have a spare rack which will make it easier to store your spars etc as they will be too long to fit in the box.




David